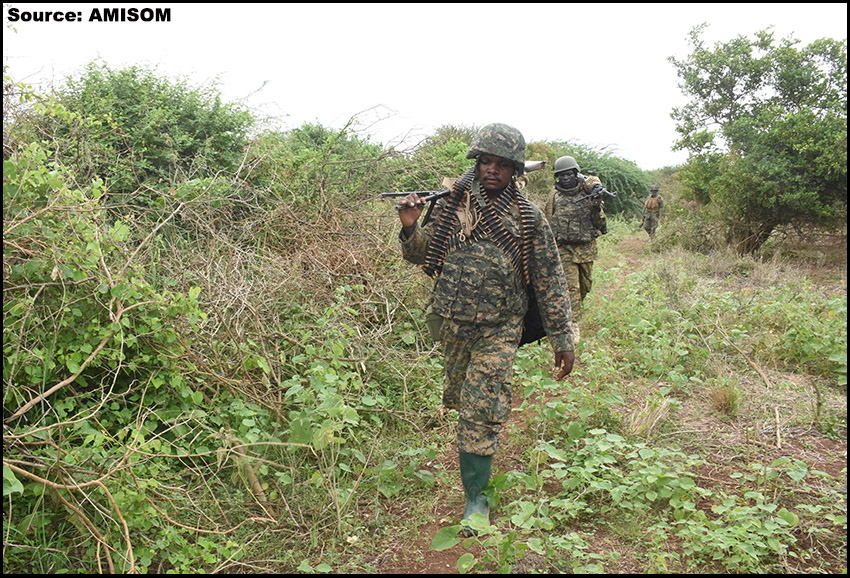 The African Union Mission in Somalia (AMISOM) was replaced in April
2022 with the A.U. Transition Mission as part of efforts to transfer security
responsibilities to Somali forces. Above, troops take part in a Somali National
Army-led, AMISOM-supported operation to clear Al-Shabaab fighters from
the Basra area in the southern Lower Shabelle region in October 2021.
Somalia has suffered from instability and violence since the overthrow of the regime of Mohamad Siad Barre in 1991. Since the mid-2000s, this conflict has largely pitted the internationally backed authorities against the Al-Shabaab militant group.
Al-Shabaab (The Youth) has its roots in the nationalist Greater Somalia concept and has been sustained by opportunistic Islamic fundamentalists and failures of governance and economic growth. Instability, militancy and weak Somali governments have brought various international interventions, from regional powers to the U.N. and U.S. Efforts to strengthen Somali governance have foundered on internal disputes.
Last year, civilian fatalities at the hands of Al-Shabaab hit their highest level since 2017, even as the African Union and other international partners worked to turn over security responsibilities to Somali security forces.
Early Strife
The modern state of Somalia came into existence on July 1, 1960, with the union of the State of Somaliland (formerly the British Somaliland Protectorate) with the U.N.-designated Trust Territory of Somaliland under Italian administration. From 1960 to 1969, Somalia operated under a parliamentary democracy. At the same time, the Somali Republic made claims on neighboring territories historically settled by ethnic Somalis in the name of Greater Somalia. The Somali flag, with its five-pointed star, is an allusion to the unification of all territories settled by ethnic Somalis – including those in Djibouti, Ethiopia and Kenya.
Prior to independence from France, Somalis in Djibouti pushed for unification with the British and Italian-administered Somali territories. When the Somali separatist insurgency in Kenya kicked off the Shifta War in 1963, Voice of Somalia radio was pumped across the border in their support. In February 1964, Mogadishu began a two-month war with Addis Ababa over the Ogaden region south of the former British Somaliland. The hostilities ended in a stalemate under Sudanese mediation.
The Somali Republic fell on Oct. 21, 1969, in a largely bloodless coup led by Soviet-backed gendarmerie Maj. Gen. Mohamad Siad Barre. Barre founded the Somali Democratic Republic, a Marxist-Leninist one-party state that survived until Barre's ouster in 1991. In 1977, the Barre regime attempted to again take Ogaden from Ethiopia. After nearly conquering the entire territory, Mogadishu was betrayed by its Soviet backers, who sent 20,000 Cuban soldiers to help the communist Derg regime in Ethiopia. Following defeat in the Ogaden War, Somalia switched allegiance to the United States.
Breakaway Regions in the North
The end of the Cold War reduced Somalia's value to Moscow and Washington, leaving the Barre regime adrift. Brutal crackdowns, including the Isaaq genocide in the late 1980s, generated further opposition to the regime. The Derg regime in Ethiopia allegedly supported many of these insurgencies. The fall of the Barre regime in 1991 brought on a new civil war.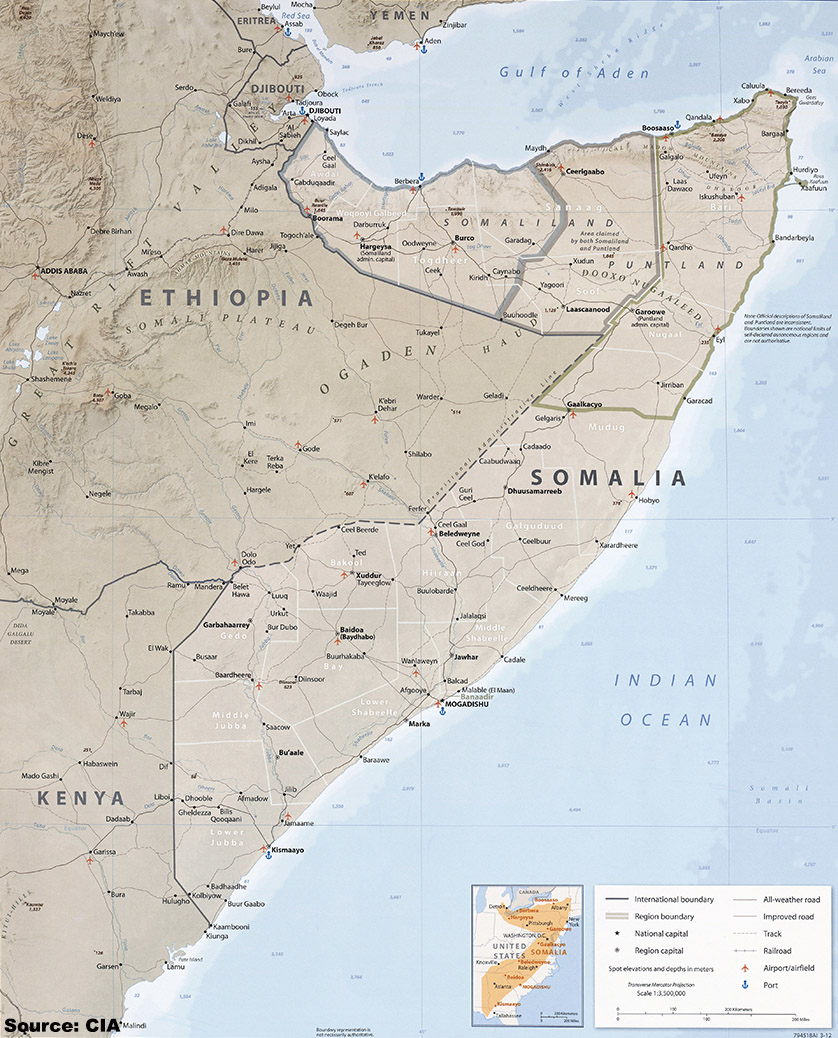 The Somali National Movement established the de facto independent state of Somaliland on the territory of the former British Somaliland in May 1991 following the decade-long Somaliland War of Independence. The Somaliland government, a unitary presidential democracy with a bicameral parliament, has since campaigned for international recognition without success. Freedom House regularly rates Somaliland "Partly Free" owing to corruption, civil rights violations and an oft-contested electoral system that challenges its democracy.
The neighboring Somali region of Puntland is similarly de facto independent, but it has not sought international recognition. These regions have largely escaped Al-Shabaab violence, leading some to see them as models of stability for Somalia. The country has a federal parliamentary system, with governance and independence from Mogadishu varying by region.
The Birth of Al-Shabaab
Al-Shabaab originated in the early 2000s, when younger members of the Osama bin Laden-backed Al-Ittihad al-Islami (Unity of Islam, AIAI) militant Salafist group split off to pursue a unified Greater Somalia ruled by fundamentalist Islamic law. Al-Shabaab subsequently joined the Islamic Courts Union (ICU), a fundamentalist judiciary network that had emerged in the chaos of the Somali civil war.
Al-Shabaab and the ICU seized Mogadishu in June 2006 and soon began making claims against Ethiopian and Kenyan territory in the name of Greater Somalia. Ethiopia, wary of these claims and at the request of the internationally backed Somali transitional government, invaded in December 2006 and ousted the Islamist regime. The African Union and U.S. supported the Ethiopian intervention.
Surviving ICU members fled into exile, while Al-Shabaab reconstituted into a regional insurgency in southern and central Somalia. Within two years of the Ethiopian intervention, the militant group expanded from around 400 fighters to several thousand. In 2008, the U.S. State Dept. designated Al-Shabaab a foreign terrorist organization. Four years later, Al Shabaab's leadership formally declared allegiance to Al-Qaida – renewing a link to bin Laden first forged as part of AIAI.
Al-Shabaab Strikes in Somalia and Beyond
The Al-Shabaab insurgency spread in the absence of adequate governance, with the group often providing dispute settlement and protection in exchange for taxes and obedience to a strict interpretation of Islamic law. Al-Shabaab has also raised funds from other terrorist groups, piracy, kidnapping and extortion.
Despite its provision of some governance, Al Shabaab's refusal to cooperate with international humanitarian missions has made several natural disasters in Somalia significantly more costly.
Al-Shabaab recruits volunteers and conscripts civilians – including children – from territory under its control and abroad. U.S. intelligence officials estimate the group to number between 5,000 and 10,000 fighters.
The group has not been contained in Somalia. In 2010, Al-Shabaab killed 74 people in Kampala, the Ugandan capital, in coordinated suicide bombings, ostensibly in retaliation for Ugandan participation in the A.U. mission in Somalia.
Al-Shabaab also conducted four major attacks in Kenya between 2013 and 2019. During the war in Ethiopia's northern Tigray region from November 2020 to November 2022, Al-Shabaab launched an unsuccessful offensive in eastern Ethiopia.
Some members of Al-Shabaab have called for attacks against the United States. In 2020, documents revealed that one such scheme was stopped by the arrest of an Al-Shabaab member in the Philippines where he was training to commit a 9/11-style attack.
Within Somalia, Al-Shabaab regularly targets government buildings and security forces in Mogadishu. A favorite tactic is to detonate a vehicle bomb to attract first responders before setting off a second explosive device to increase casualties.
During the first 11 months of 2022, at least 613 civilians were killed and 948 injured in Al-Shabaab attacks, the highest rate since 2017, according to the U.N. Office of the High Commissioner for Human Rights (OHCHR).
Complex Electoral Politics
Despite limited control over Somali territory, the internationally backed government in Mogadishu has sought to maintain a legitimate parliamentary democracy. Somalia has a complex electoral system designed to balance power among the major clans. The 275 members of the House of the People are nominated by clan elders and civil society for appointment by regional state officers. The House of the People then elects the president, in conjunction with a similar indirectly elected, 54-member Senate representing Somalia's regions.
Elections have been beset by delays and complaints. As a result, incumbents often overstay their mandates. The system offers opportunities for external influence, including Qatar's alleged bankrolling of Mohamed Abdullahi Farmaajo's successful 2017 presidential campaign. Officials in Djibouti have expressed concern that a one-person, one-vote style democracy in Somalia might lead to an Al-Shabaab-dominated Parliament.
President Hassan Sheikh Mohamud, elected in May 2022, has promised to focus on fighting Al-Shabaab ideologically as well as militarily and has backed a clan-focused approach that he compares to Iraq's campaign against the Islamic State.
International Interventions
In early 2007, the African Union sent a multinational peacekeeping force to Somalia following Ethiopia's intervention. The A.U. Mission in Somalia (AMISOM) was mandated by the U.N. Security Council to protect the transitional government. As of 2022, it had 20,000 troops assigned.
The mission is in the process of turning over its responsibilities to the Somali security forces. On April 1, 2022, the AMISOM mission was formally replaced by the A.U. Transition Mission in Somalia (ATMIS) with the goal of completing the transfer by the end of 2024.
The U.S. has long played a role in Somalia. During the Somali civil war in 1993, a U.S. military force, dubbed Task Force Ranger, sought to capture Mohamed Farrah Aidid, a clan leader wanted for attacks on troops from the U.N. Operation in Somalia II (UNOSOM II). After the Battle of Mogadishu, in which 18 U.S. soldiers were killed, Washington withdrew its forces, turning the mission over to the U.N. The U.S. has since taken an offshore approach, providing training for Somali forces and conducting airstrikes against Al-Shabaab targets.
These efforts have been criticized. Billions of dollars have been spent on training and equipment for AMISOM and Somali forces. American participants have described the eight-week training cycles led by private contractors as expensive and inefficient.
Airstrikes, largely executed by uncrewed aerial vehicles (UAVs), began during President George W. Bush's second term and reached an apex of 275 during the Trump administration.
Trump sent around 700 U.S. troops to Somalia in 2017 but ordered their withdrawal following several deaths. By 2019, Washington felt enough progress had been made that it could open an embassy in Mogadishu's airport compound.
The Clans Strike Back
On May 16, 2022, U.S. forces returned to Somalia, when President Joe Biden deployed around 450 special operations personnel. The Biden administration sought to increase pressure on Al-Shabaab by authorizing the assassination of group leaders, and the State Dept. doubled rewards for information leading to their discovery.
The Biden administration has generally tightened requirements for airstrikes to prevent civilian casualites, focusing on protecting friendly forces in imminent danger.
These measures have come with a renewed investment in a two-prong strategy focused on elite special operations forces and local militias. The Danab Brigade, a mixed-clan commando unit, has a record of effective cooperation with U.S. special operations troops.
Meanwhile, a summer 2022 clan revolt against Al Shabaab's onerous taxes has evolved into a government-backed, grassroots operation. Ma'awisley clan militias in the south-central Hirshabelle state have begun widespread offensives against Al Shabaab, with the aid of national and U.S. forces.
President Mohamud has expressed hope of fomenting similar revolts against Al-Shabaab elsewhere in Somalia, with the aim of bringing the group to the negotiating table.
***
Recent advances against Al-Shabaab on the battlefield are a positive sign but are not sufficient to eliminate the threat. Political reforms are needed to provide stable and effective governance to address the problems that have helped Al-Shabaab to sustain itself. Without such change, Al-Shabaab can be expected to rebound from its latest setbacks.