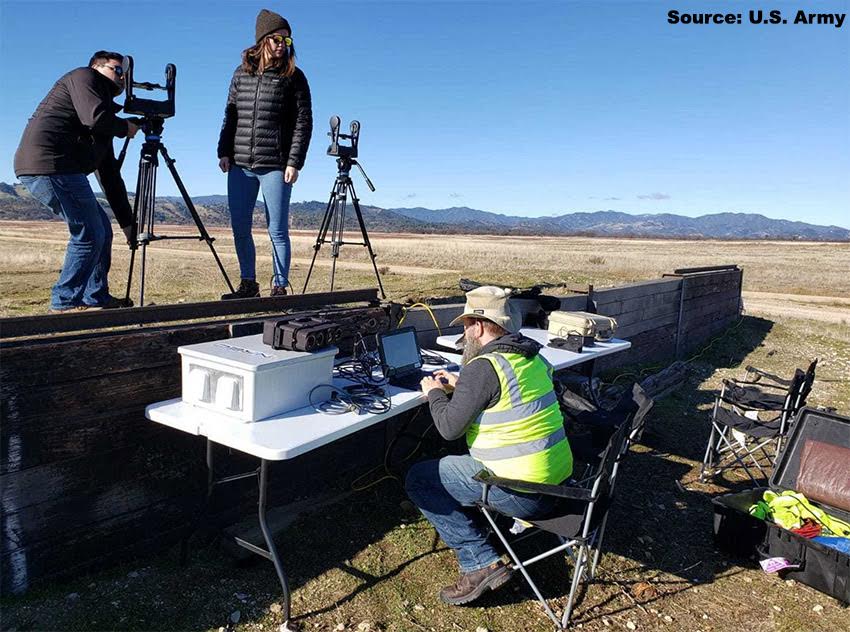 Gathering data is a key part of the development of artificial
intelligence or machine learning models. Above, members
of the National Robotics Engineering Center at Carnegie
Mellon University in Pittsburgh set up equipment during a
data collection event at Fort Hunter Liggett, Calif., in January
2020. The event was part of the Aided Threat Recognition from
Mobile Cooperative and Autonomous Sensors (ATR-MCAS)
program. The AI-enabled system employs air and ground drones
to identify, classify and locate objects of interest and threats in
an area with the goal of reducing the cognitive load on soldiers.
A technological revolution is underway, as artificial intelligence (AI) appears set to revamp work, society and global economies. Like the computer and internet revolutions that preceded it, AI will also influence militaries and the use of armed force.
The idea of artificial intelligence is nothing new. Technological advances over the last two decades, however, have brought it closer to reality. The term refers to advanced technologies that enable machines to gain intelligence and prediction capabilities. These are generally developed by experience or through data provided to the machine.
There are two major aspects of AI: Machine learning (ML) and deep learning (DL). Machine learning is the ability of computers to learn from data without being explicitly programmed. Where traditional programming involves a programmer writing rules that define how a program should work on a computer or machine, in ML the machine learns the rules from data rather than an explicit program. A human must still write the code that produces the ML model. For it to qualify as ML, a model must learn from data rather than memorizing it.
DL involves training deep neural networks, or artificial neural networks, developed to operate like the human brain. Such a network is created by stacking several artificial neurons (perceptrons) together. DL involves training a neural network with several hidden layers. At least two hidden neural layers are needed to create a deep neural network. These networks can learn complex relationships in data but require large amounts of information and time to train.
Managing Military AI
Amid growing concerns about AI capabilities, on Feb. 16, the U.S. launched an initiative promoting international cooperation on the responsible use of AI and autonomous weapons in conflicts. The announcement came at the end of a two-day conference in The Hague that covered advances in drone technology deployed in the Ukraine war. The use of increasingly autonomous drones in combat, including air, surface and underwater vehicles, has forced governments to confront the growing potential of autonomous combat robots.
U.S. Undersecretary for Arms Control and International Security Bonnie Jenkins said that governments "have an obligation to create strong norms of responsible behavior concerning military uses of AI and in a way that keeps in mind that applications of AI by militaries will undoubtedly change in the coming years."
Sixty countries, including China, joined the U.S. in urging broad cooperation in the development and responsible use of AI for military purposes. The U.S. declaration had 12 points, including that military uses of AI are consistent with international law and that states "maintain human control and involvement for all actions critical to informing and executing sovereign decisions concerning nuclear weapons employment."
It also emphasized "the importance of ensuring appropriate safeguards and human oversight of the use of AI systems, bearing in mind human limitations due to constraints in time and capacities."
The call for international cooperation on AI marks an attempt by Washington to bring a level of control to autonomous weapons, which has long been a concern among military watchers. While worries about rogue or "self-aware" AI may be exaggerated, the employment of autonomous weapons raises questions about how they will be controlled to ensure they strike the intended target.
Spurring the new U.S. initiative is the growing likelihood of fully autonomous combat drones that can identify, choose and attack targets without human assistance. The widespread use of combat drones in Ukraine has accelerated the possibility that such autonomous weapons will be employed on the battlefield sooner rather than later.
Pentagon Pursues AI Across the Board
In January, the Dept. of Defense updated its 2012 directive on developing and deploying autonomous and semi-autonomous weapon systems, including systems using AI. Rapid advances in the technology since requires senior officials to ensure that any autonomous weapon system meets precise specifications.
In 2019, the Pentagon released its first plan for the development of AI systems and technologies for defense, research and military purposes. It said that the U.S. and its allies must adopt AI to maintain its strategic position and prevail in future conflicts. Increasing speed and agility were a key focus of the strategy, with the goal of providing AI capabilities across the Defense Dept.
The DOD is also conducting experiments employing data, analytics and AI for its Joint All-Domain Command and Control (JADC2) program to link weapons, sensors and command systems across the military services. Military and civilian personnel and combatant commands are also considering how AI can remove barriers to data-sharing in policy, security and connectivity across the joint force, and from the tactical to the strategic level.
One of the key abilities of AI is that it can quickly review and analyze vast quantities of information. An example is the Pentagon's Project Maven, which is designed to evaluate large amounts of intelligence, surveillance and reconnaissance (ISR) data. It is already being used by intelligence and other agencies.
There is significant enthusiasm for AI for military purposes. A 2022 RAND Corp. survey asked participants to "share their comfort level" on various AI scenarios. These asked about the employment of AI at various distances from the battlefield, level of destructiveness and how much human oversight was involved. The results indicated that most experts favored continued development for military missions.
Linking Sensors, Weapons With AI
Questions remain about how much and what kind of control AI creators and managers can maintain over such technology. As with many new technologies, the military has led the way in developing AI applications that can perform tasks without human intervention. These vary based on the information the application is trained on, which include language recognition and visual inputs.
AI can efficiently process data from various sources, rapidly creating a more complete battlefield picture than previous computer processing. This offers advantages in combat, minimizing risks to soldiers and enhancing their efficiency and security. Finding, identifying and tracking hostile forces through various sensors, enabling them to be engaged, or avoided, most effectively, is an important military capability. The U.S. military has long sought the ability to rapidly find, identify and track targets for engagement by the most appropriate weapon system. The goal of the JADC2 program, for example, is to link sensors and weapon systems across the battlespace and get the best target information to the best weapon for engagement regardless of which service operates it.
The Army's Aided Threat Recognition from Mobile Cooperative and Autonomous Sensors (ATR-MCAS) program is another such AI program. It uses different types of drones operating on a battlefield to identify threats, such as a tank, and passes the information to an AI, which would then "identify, classify and geolocate entities, obstacles and potential threats," generating a "common operating picture" (COP). An "AI-enabled decision support agent" would then make recommendations to soldiers, such as prioritizing a range of threats.
Drone swarms are another area where AI is expected to support military operations. Sensors on the various vehicles would constantly communicate with each other about their position, the distance, direction and elevation of a target and other dangers. AI would analyze this data to determine the best method to achieve a mission.
Ukrainian forces have already used semi-autonomous attack drones and counter-drone weapons endowed with AI. Russia also claims to have employed AI weapon systems. To date, no fully autonomous weapon system has been used in combat.
AI Flies a Fighter Jet
Lockheed Martin announced in February that it had flown a modified fighter aircraft with an AI agent for more than 17 hours, marking the first time that AI was used on a tactical aircraft. The X-62A Variable In-flight Simulation Test Aircraft (VISTA) was developed with Calspan Corp. for the U.S. Air Force Test Pilot School at Edwards Air Force Base, Calif.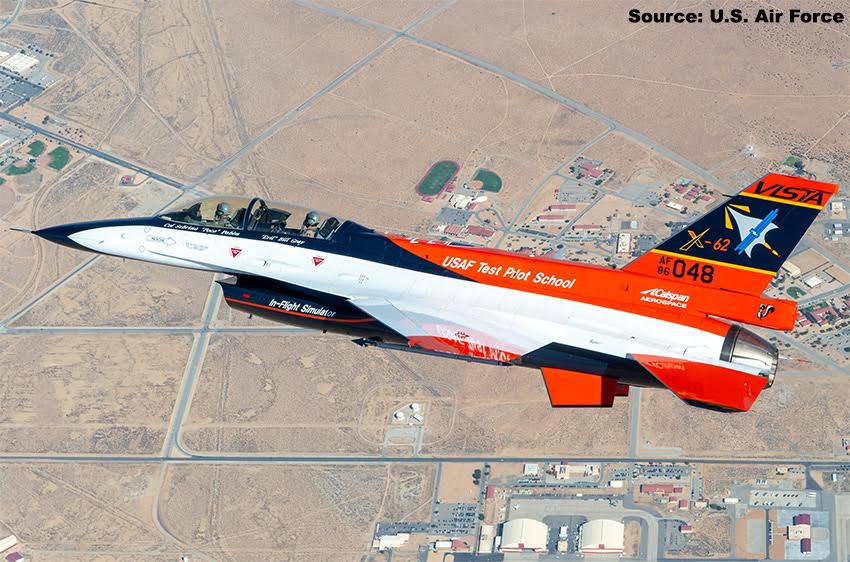 In February, Lockheed Martin announced that it had flown the X-62A
VISTA training aircraft, a modified F-16D, using an AI agent. This was
the first time that an AI was employed on a tactical aircraft, the company
said. Above, the X-62A jet flies over Edwards Air Force Base, Calif.
The modified F-16D Block 30 fighter is upgraded with Block 40 avionics and software that allows the aircraft to process vast amounts of data, identify threats and detect data set anomalies quickly and precisely. It is also designed to simulate the performance characteristics of other aircraft.
The program is intended to support autonomous aircraft algorithm development and integration, including rapidly maturing autonomy for uncrewed platforms, according to the company. It would enable parallel development and testing of the latest AI techniques with new uncrewed vehicle designs, said Air Force officials.
AI Assistance Beyond Combat
AI can boost decision-making speed and situational awareness. Rapid and precise analyses can support human commanders monitoring or engaging threats. It is expected to help predict enemy behavior and vulnerabilities as well as weather and environmental conditions, all of which can prove vital on the battlefield.
Beyond the battlefield, new AI training tools are helping the Air Force and Army train pilots faster. Such tools offer content, measure progress and reportedly produce a 40 percent reduction in training time. They can also support highly realistic simulated combat scenarios.
The Army also sees a role for AI in recruiting, where it uses male and female chatbots to interact with potential candidates.
AI can also support the rapid diagnosis of a cyberattack or other issues on a battlefield, as well as logistics, transport and medical care. For example, robotic ground platforms could be outfitted with medical equipment and AI that could deliver remote surgical treatment and support.
Such capabilities could allow the military to rethink its personnel requirements, a growing concern as recruitment has become increasingly challenging. Increased efficiency could also reduce maintenance costs around the force, lowering costs.
Possible Pitfalls
There are concerns about increasing reliance on AI. The potential for leaders to become dependent on such support could become an issue on the battlefield when human improvisation is needed. Experience in training or in combat experiments may not translate to the fog of war, especially as adversaries integrate their own AI capabilities. AI is still developing, but for the moment it may lack the subtleties of human judgment.
A 2022 report from the Georgia Institute of Technology argued that the military should be mindful of the shortcomings of AI. The hard problems in war are in strategy and uncertainty, which require human sense-making and moral, ethical and intellectual decisions in difficult conditions, researchers said. The unpredictability of warfare may limit the utility of the technology on the battlefield.
AI tools can suffer from the shortcomings of their creators. It can only be as good as the data it has absorbed. There is also the opportunity for adversaries to compromise such systems, potentially manipulating or disrupting data to affect an AI's judgment. Accordingly, some argue that the best place for AI in the military is in areas such as personnel systems, administration, logistics and maintenance.
***
AI is an exciting new technology that promises to significantly change the world, from the workplace to the battlefield. There is growing recognition that AI also offers new challenges and that its use must be carefully considered. Like any other military technology, adversaries will seek to disrupt its use to their advantage. The February initiative by the U.S. appears to be a first step in a global campaign to ensure AI is used responsibly in military affairs.
While AI on the battlefield gets most of the attention, it may be that the technology will have the greatest effect in the rear, simplifying administration and logistics and creating efficiencies. One of AI's great advantages is its ability to rapidly analyze large quantities of data. For the near future, this will likely be one of its primary military uses as concerns about ethics and AI decision-making keep it off the front lines.
Concerns about AI remain. Following The Hague conference in February, Dutch Foreign Minister Wopke Hoekstra nevertheless expressed optimism, saying that "we are in time to mitigate risks and to prevent AI from spiraling out of control, and we are in time to prevent AI from taking us to a place we simply don't want to be."